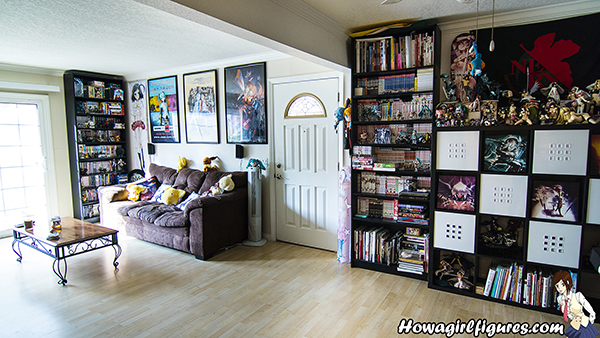 It's been not only a long time since I've posted here, but it has been a long time since I shared photos of my place. The last time you guys saw where I lived I was still living at home with my parents. It was back in 2012, so easily 4 years ago you saw my collection. Now you can see not only has my collection grown, it's doubled. Since the last time you saw my place I have since gotten an apartment. I live with my boyfriend of 5 years and one of our best friends as a roommate.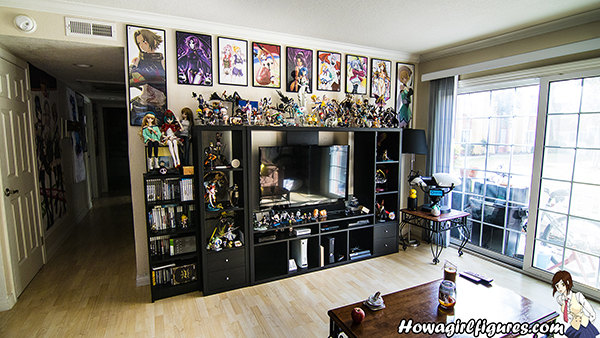 We originally had a 1 bedroom apartment and lived there for about a year, then we had a friend who needed a place to stay so we upgraded to a 3 bedroom, in the end it was cheaper for us and allowed us to have an office space. Since Taylor (my boyfriend) works from home we really did need an office space. When our original roommate moved out we got Nic our friend to move in and it's been fabulous! We hang out all the time play video games, watch movies, and eat dinner and just talk all night sometimes! It's amazing living with cool people and we're very lucky to get along so well!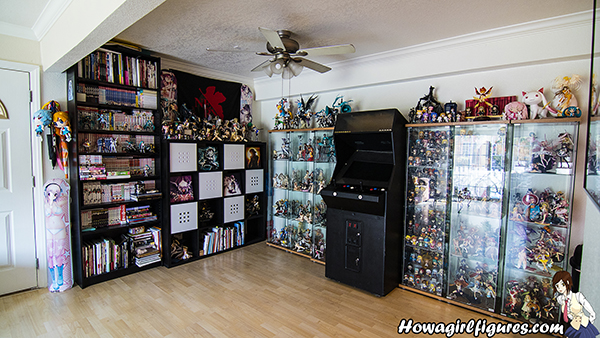 This area above is our "dining room" but we mostly eat on the coffee table in front of the TV. I decided I wanted to fill up this area as much as I could with all our figures, but now our display cases are so filled the figures are spilling over to all around the house!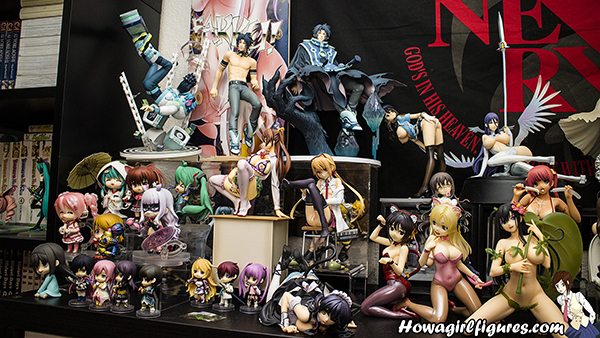 We have so many amazing figures and some great 18+ figures from companies like Skytube and Native! I'm a proud believer in not hiding your 18+ content in your own home. The only people allowed in my home are those who are open minded like myself and aren't the type of people to judge us. All our friends are otaku and all our family understands us so we've never had any concern of hiding anything we own.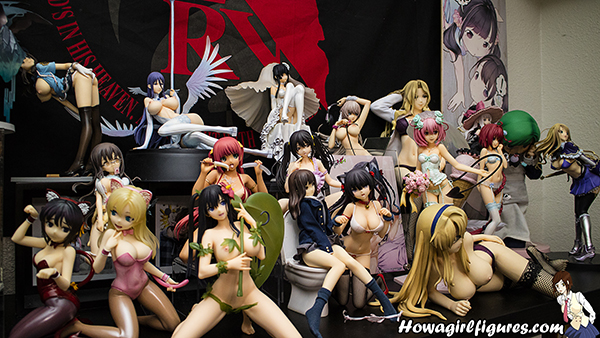 That's why all our 18+ girls are proudly displayed right in the living room!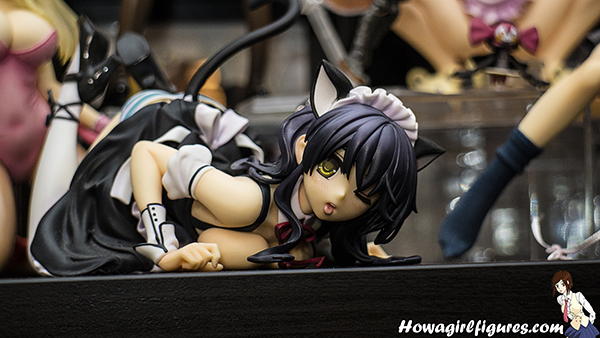 I had to share this photo of Cat Lap Girl! I adore this figure, Native is the best! <3 <3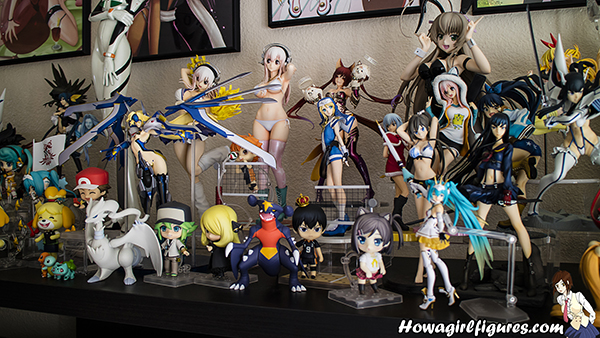 The top of the TV is covered in figures too, originally we only had maybe 4-5 figures, but with the ever growing collection it's packed now!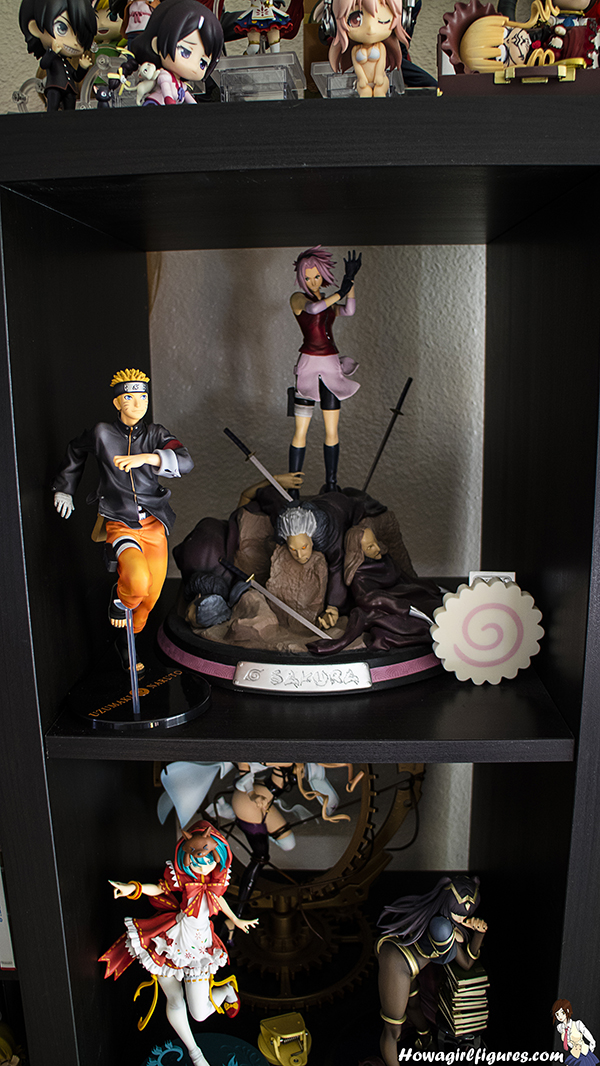 We also originally planned to only display 1 figure per cubby, but that idea went out the window very quickly!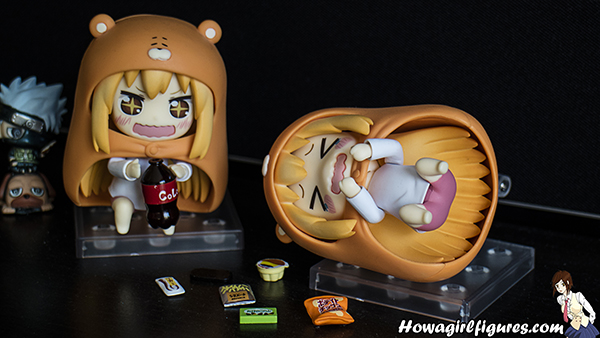 It was impossible for me to own just 1 Umaru Nendoroid!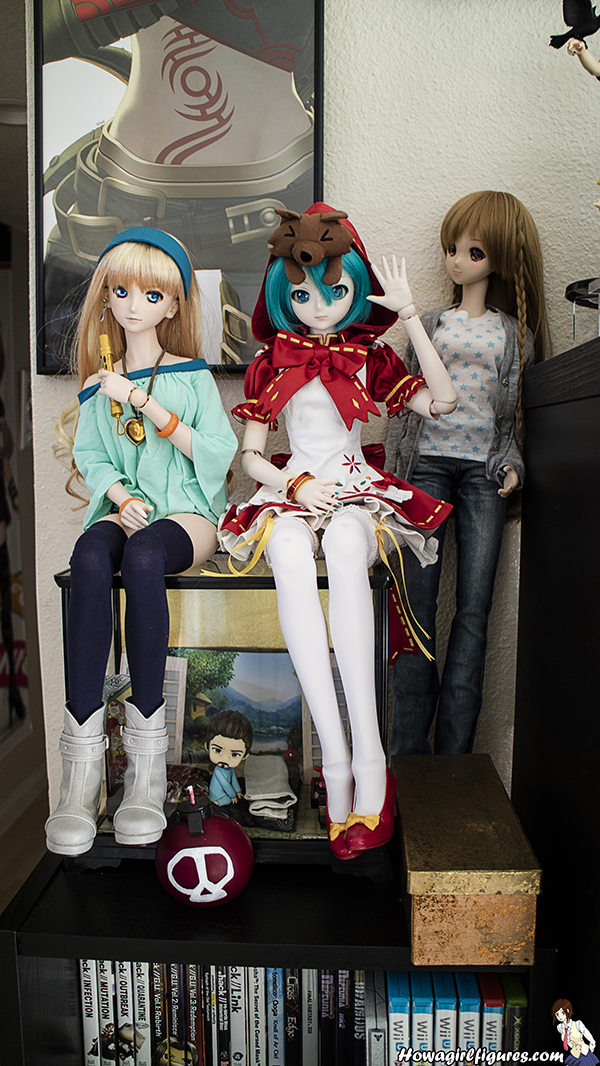 I've got so many dolls now, I remember when i only had Yoko and then Yoko and Yui! Now I have  10 dolls! The adorable ziggs bomb candle was a gift from my friend Vensy! You can buy them here!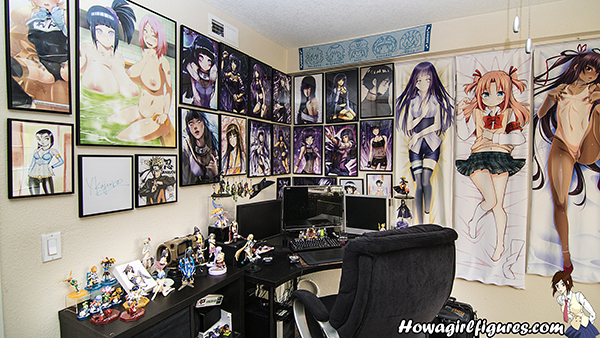 Here is the office space, Taylor and I have split the room 50/50, here is his corner, of course you can tell it's his section from all the Hinata fan art. Hinata happens to be his waifu and his favorite character! All of the art is fan art and I do my best to buy him new Hinata art when I find any at cons around the country. The pros of going to cons all the time means I get to see some amazing artists from around the country!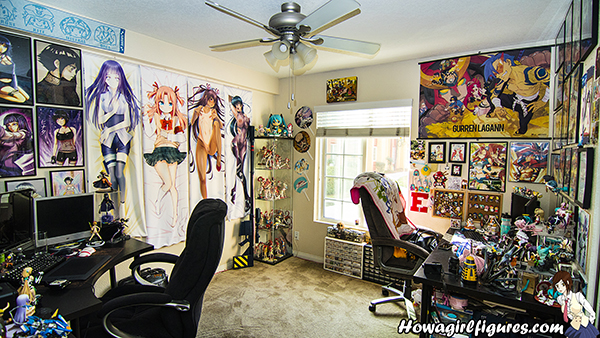 The rest of his wall is covered in Dakimakuras! Do you like the way we've hung them up? I'm trying to convince Taylor to sell these hangers for dakis online! It's the best way to display them and very easy to flip them to another side when you want a change of view. Comment below and let us know if you're interested!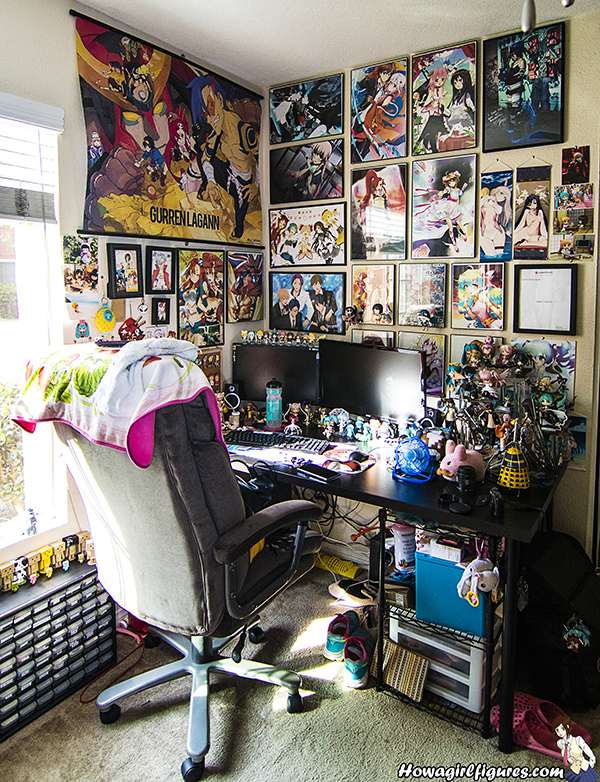 Here is my corner that is much more disorganized! My desk is covered with figures and is never this neat. My walls are covered with various anime fan art and official art I love. Lots of Yoko because she is my love!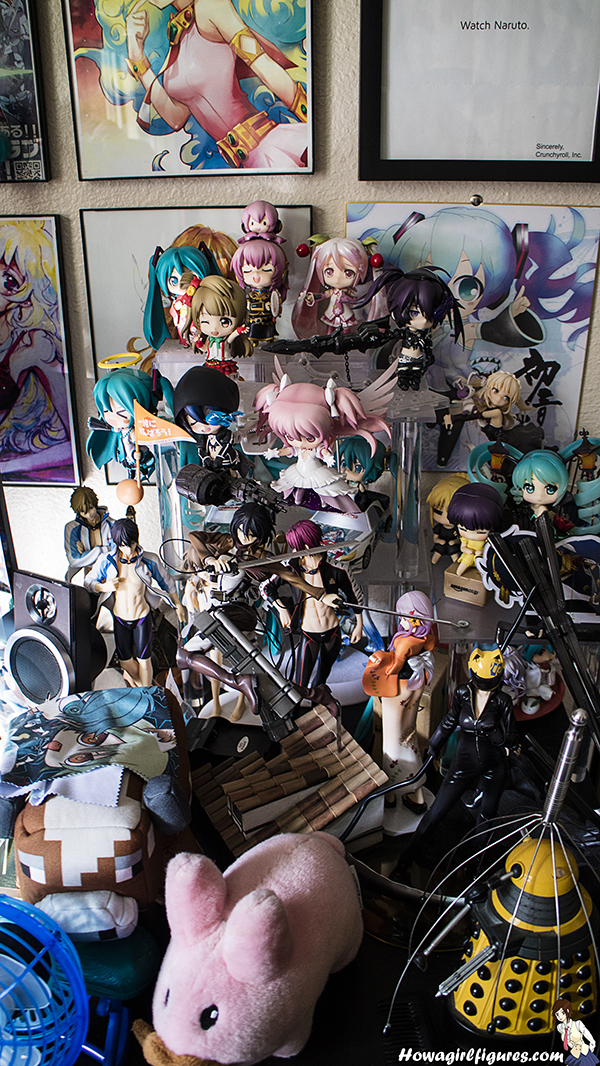 My desk is covered in Nendoroids and all sorts of various scale figure I adore! From my Free boys to Inori and Mikasa! I've got Lacia from beatless on there in the background and my beloved Dalek!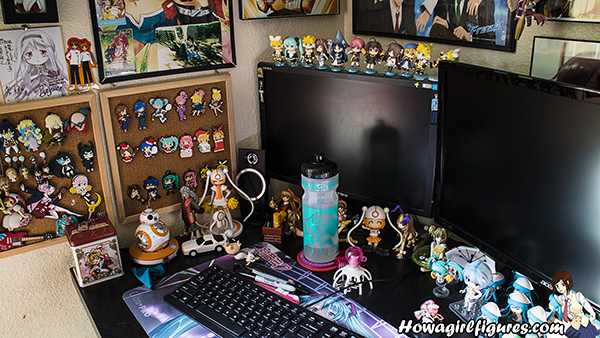 I display my key chains I've retired from my car keys on my wall. I got these cute cork boards and it's my favorite way to display them!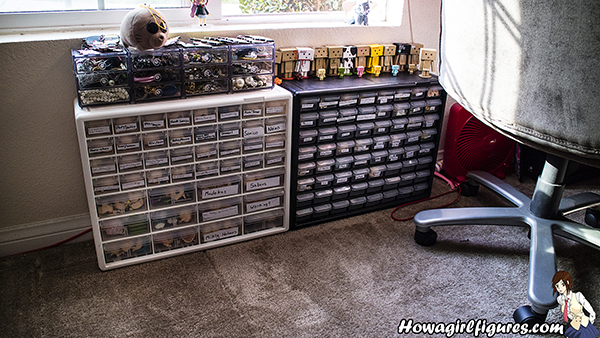 I've posted about how I store my Nendoroids before, Now I've expanded into two cases and I've started to label each drawer as I started getting confused who was who! I still have some space left in the black case, but I will be filling it up soon! It's still my favorite way to store Nendoroid parts!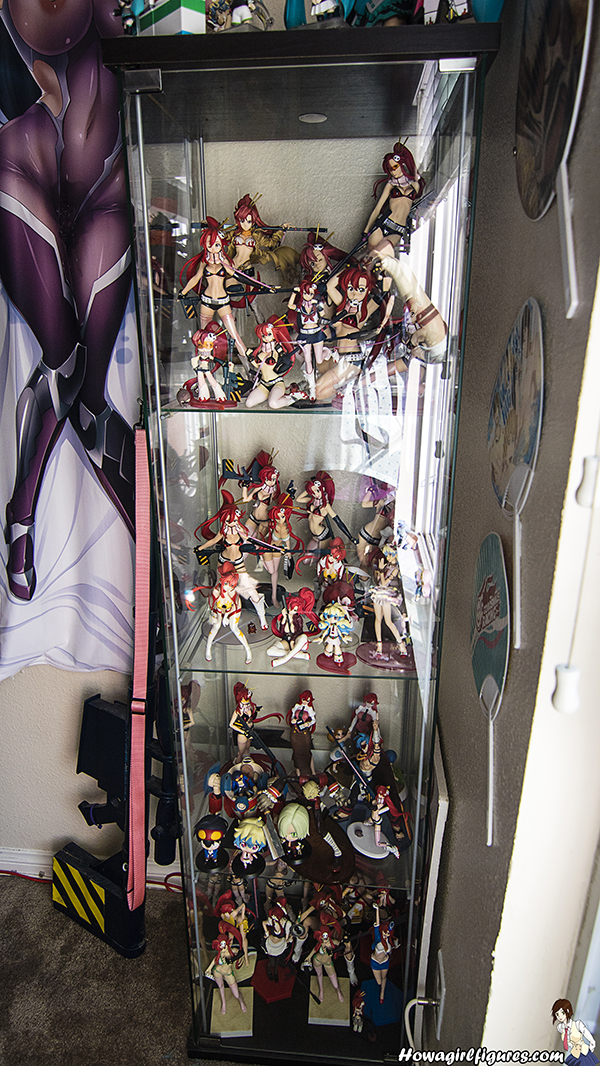 Now if you don't know me… Hi, my name is Frances and I love Yoko! Yoko is my life, Yoko is my favorite and the best! I've made it my life goal to own every scaled PVC figure of Yoko and I own ALL OF THEM minus 1. There is a crazy hard to find variant of a Ichiban Kuji I haven't found yet, but I will 1 day!  PS if you find her online you tell me, you tell me and I'll love you forever as I run to buy her!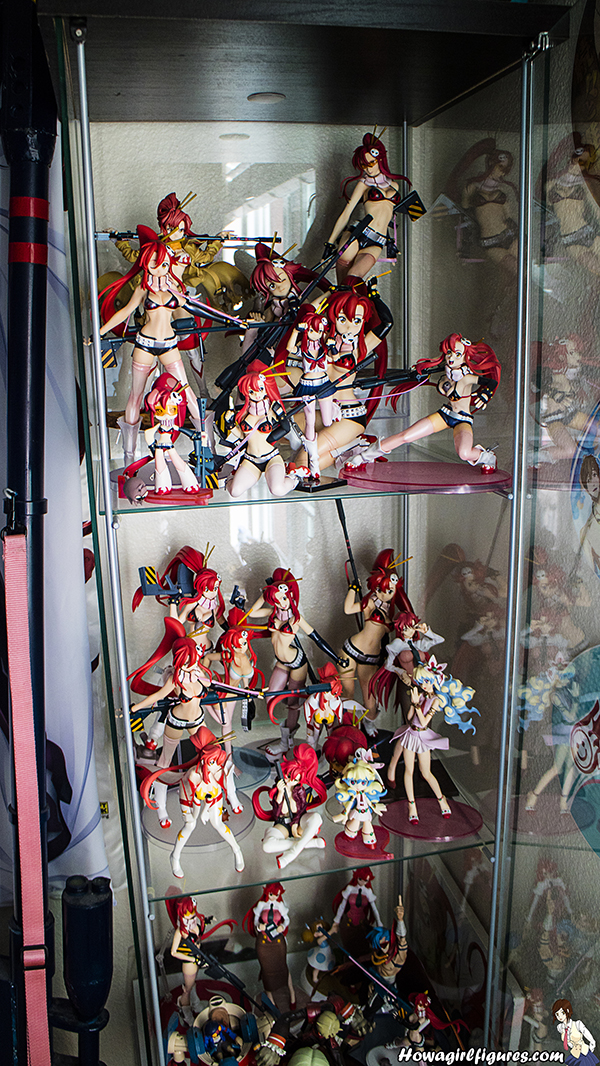 This is some of the pride of my collection and I love my Yoko Detolf!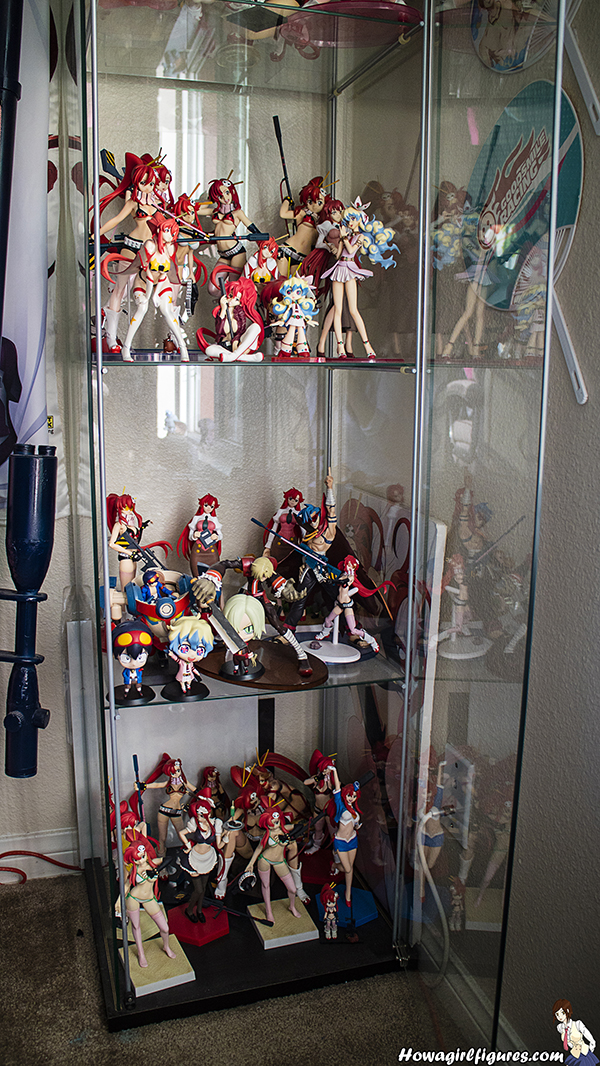 So many babies!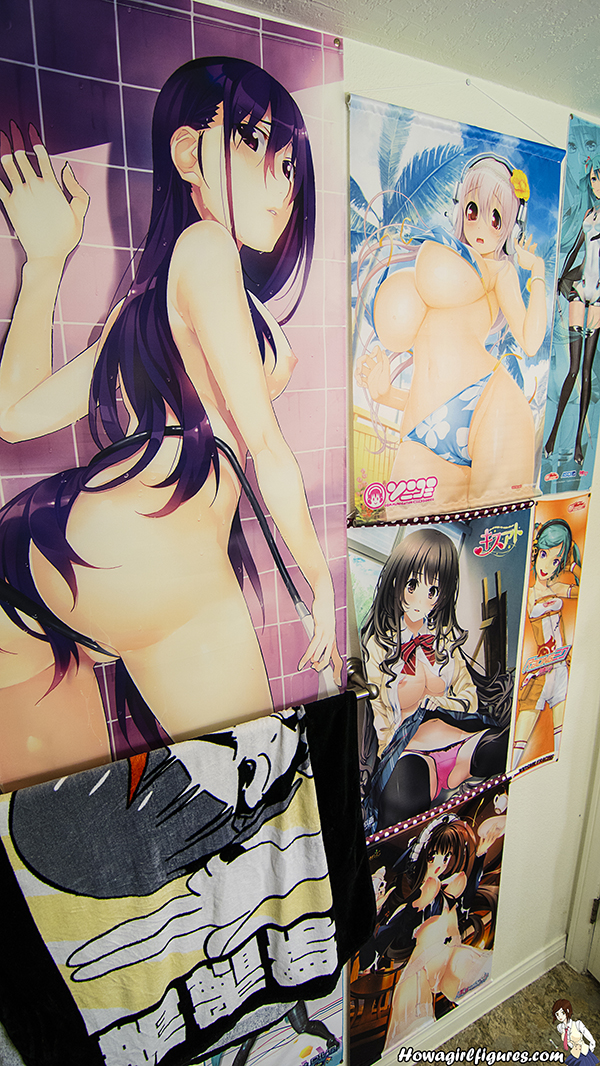 Of course our whole apartment is Otakufied! Even our bathroom has anime all over! It's NSFW but still looks great!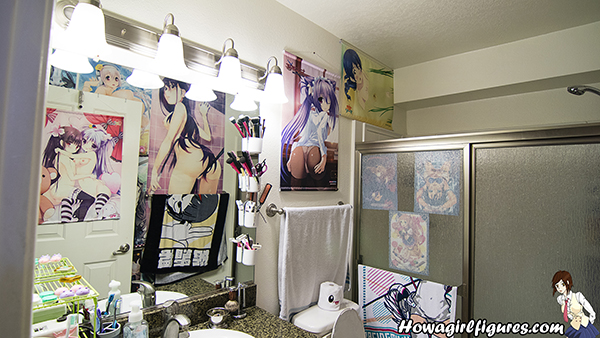 As well about 85% of my towels are anime towels! I love buying towels while I'm in Japan so I end up with all sorts of cool towels!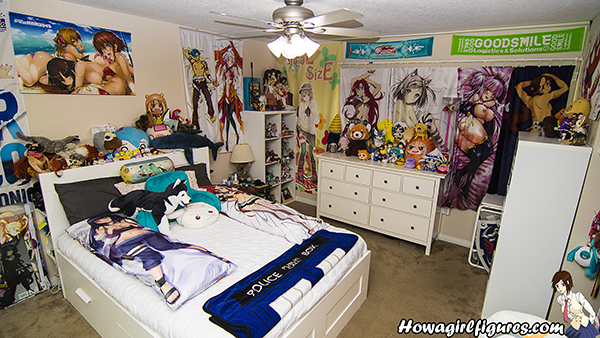 Here is the bedroom and it's much more of my taste for sure, Taylor likes to have his sections clean and organized and this is more of an explosion of my favorite things. We both like to sleep in total darkness so I've got blackout curtains and since we rarely open the windows I covered the curtains with more anime too!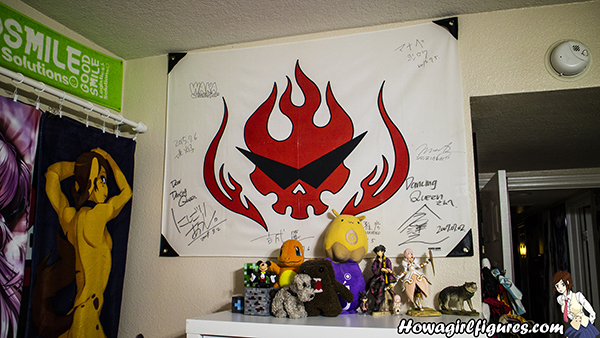 This is another one of my pride and joys! It's my Gurren Lagann flag signed by various members of the Gurren Lagann team. My ultimate goal is to get it signed by everyone who worked on Gurren Lagann!! Luckily through working with Good Smile Company we sometimes get chances to meet these amazing creators! I do my best to be polite but still ask for an autograph!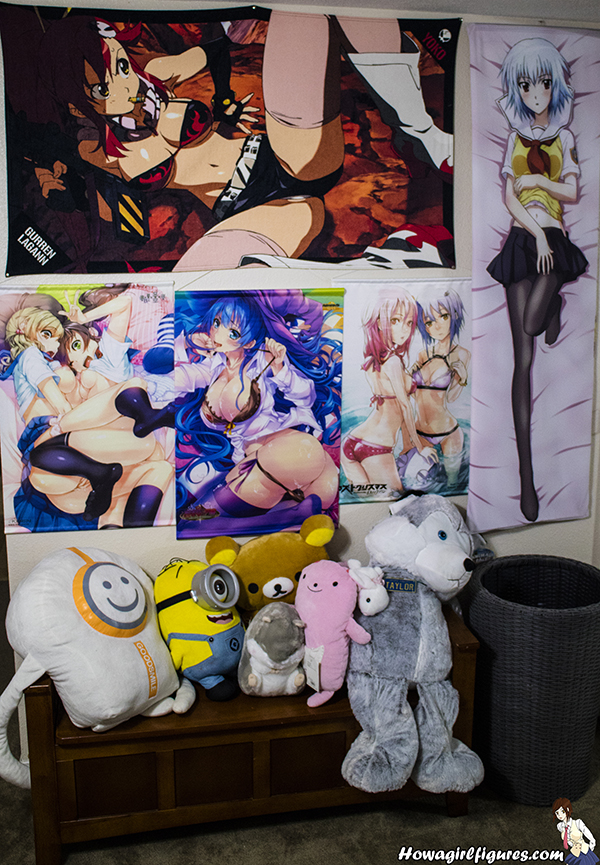 More NSFW girls on display! Plus more of my beloved Yoko, this was one of the first anime towels I ever got but the print was so beautiful and well detailed that I never used it as a towel and have had it hung up for years.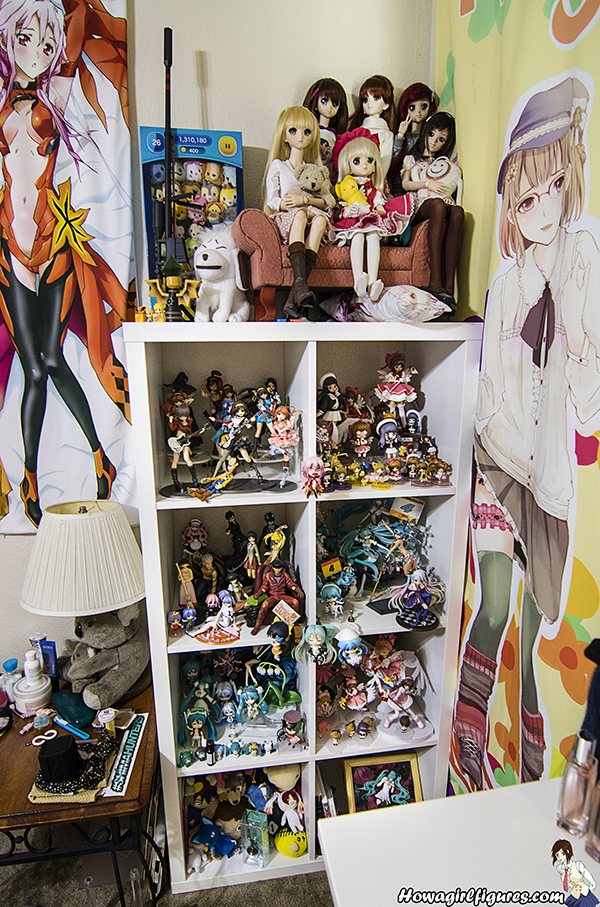 Of course the figures have expanded throughout the entire apartment and now they are on display even in the bedroom, along with the rest of my girls!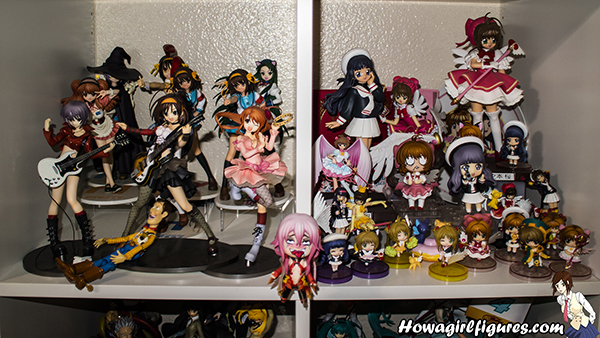 Some of my other loves are Card Captor Sakura so I also do my best to get my hands on cute CCS merchandise too! Also my talented roommate Nic created some custom faces for me, can you spot them?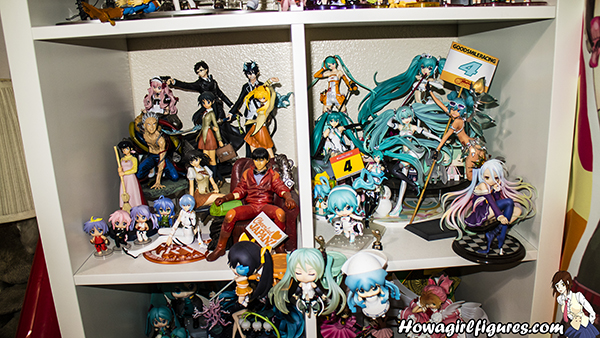 I've got a few older figures that I love here too, such as figures from Akira, those are actually my oldest figures! They came out back in 2003! Of course I didn't buy them in 2003 as I didn't start collecting until 2006! Wow that means it's been ten years that I've been a figure collector!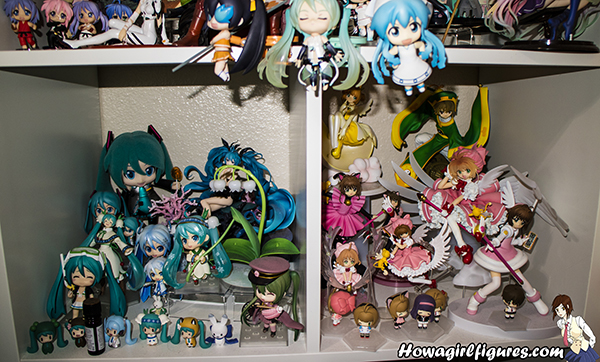 More Miku and more CCS!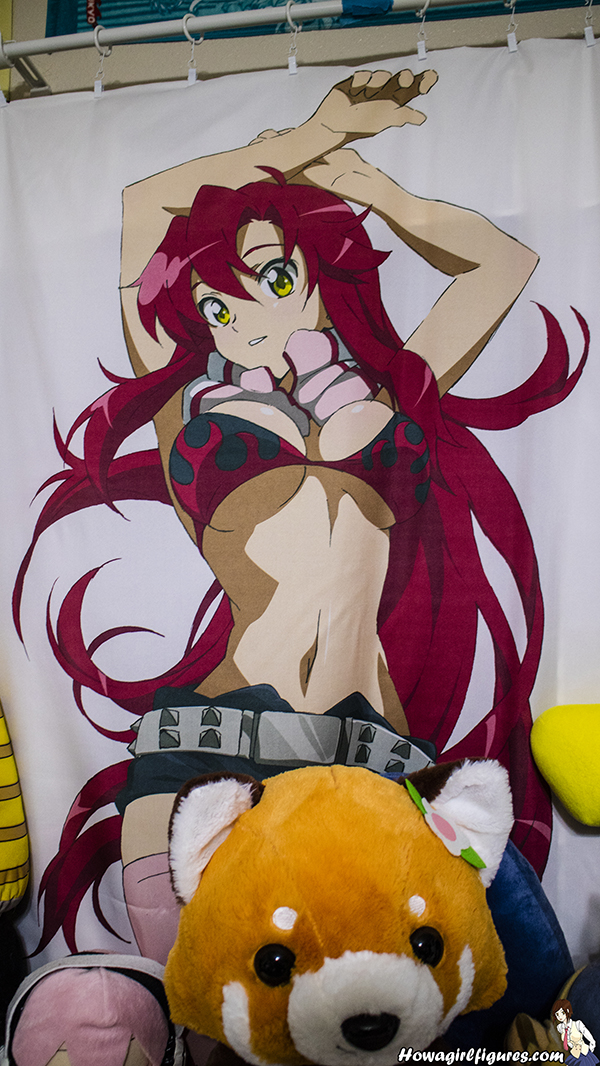 More Yoko of course! I'm so glad I found this bed sheet, I needed it!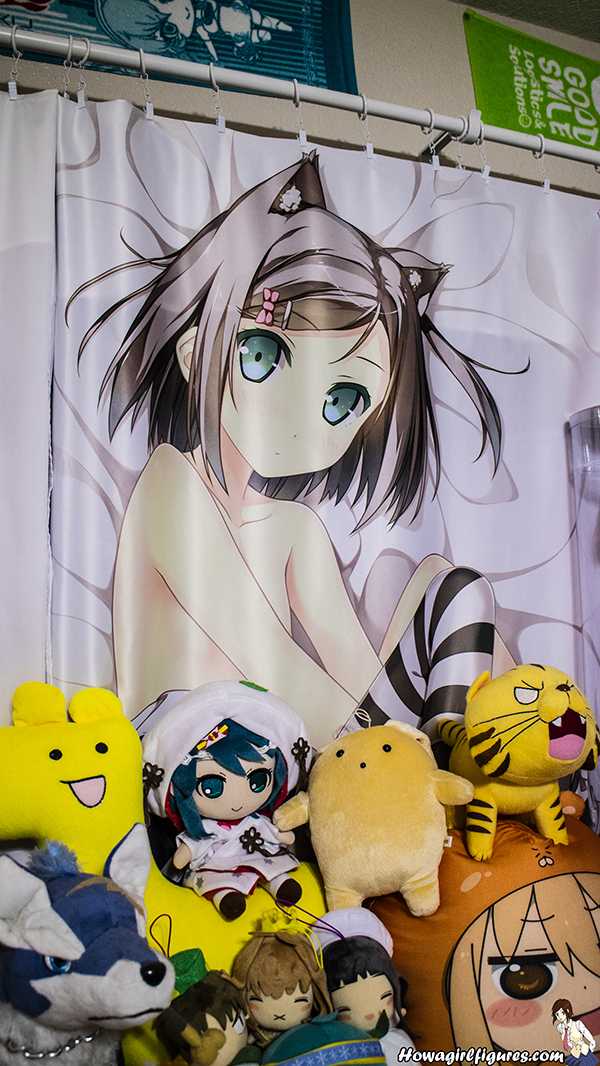 Found this Tsukiko bedsheet on one of my recent trips to Japan! Taylor really likes Tsukiko so I always look for cute things of her!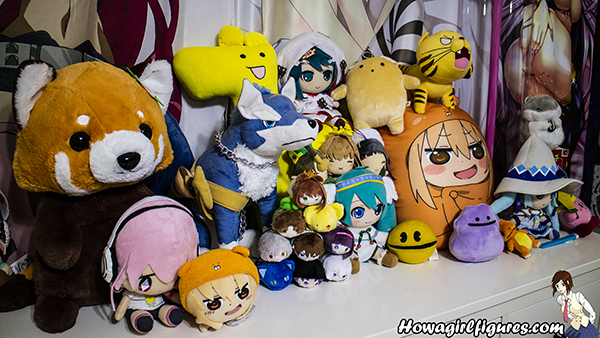 Some more of my plushie collection, I love stuffed animals and I have so many! I have never gotten ridden of one, not even from my childhood, but my mom has all of them stored at her house for me.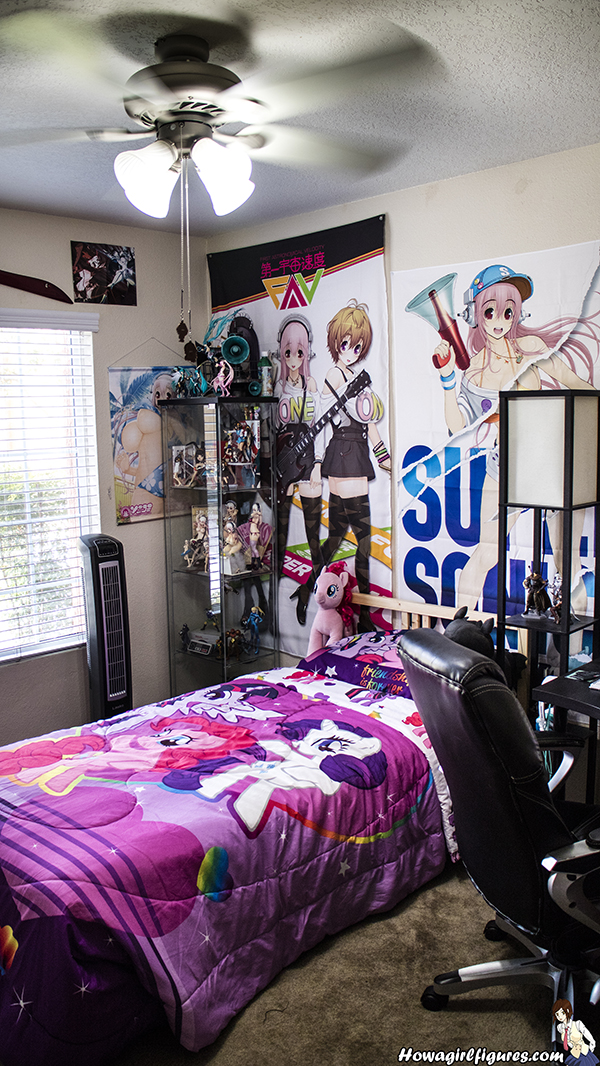 I did mention having a roommate and he's also an Otaku too! We jokingly bought him little girl sheets with Pinky Pie as he is a Brony and Pinky Pie is his favorite, but he's man enough to rock little girl sheets!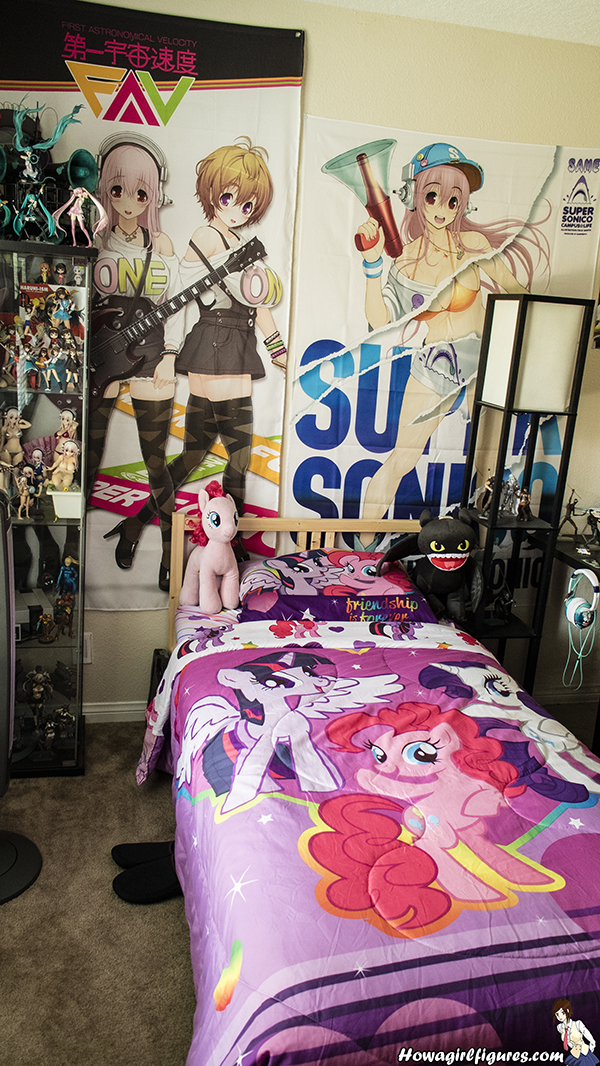 Nic is also a figure collector and if you've come to out Good Smile Company booth at AX then you might have seen him! I tend to wrangle my friends to help out at events when we need more hands on deck!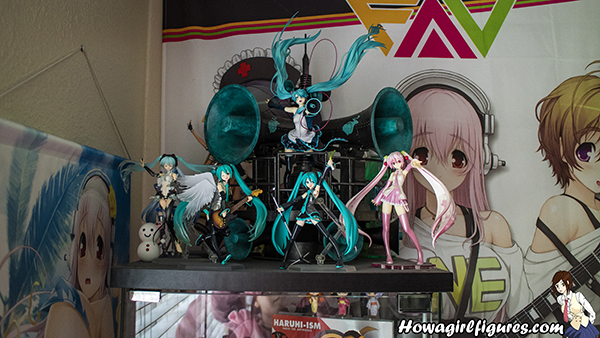 His collection is small compared to mine, but he does have some amazing quality pieces! Such as Love is War Miku!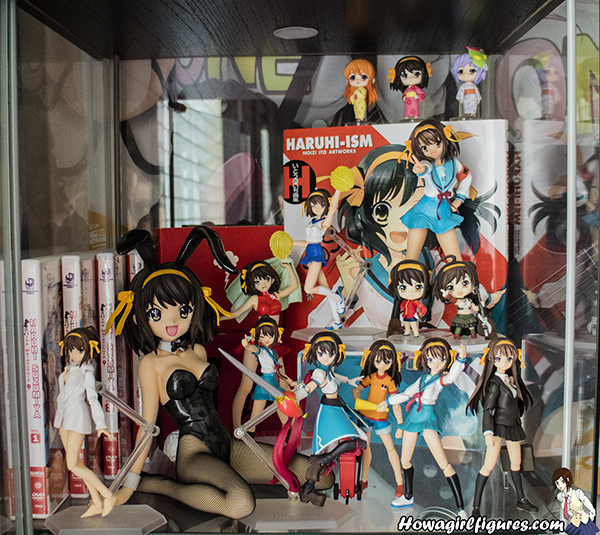 One of his favorite characters is Haruhi Suzumiya, so this is small Haruhi shrine. I've made it my personal goal to help him get all the figma Haruhi that have been made, he still needs Cheerleader Haruhi, but I'll get her for him one day! I'm an idiot and didn't see Haruhi in the photo and TOTALLY FORGOT I already got it for him…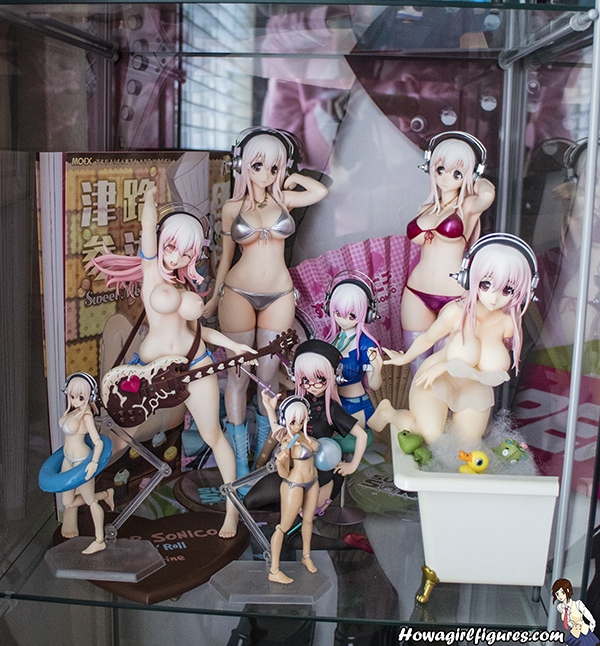 He also loves Sonico! I love his display style of how each shelf has a theme.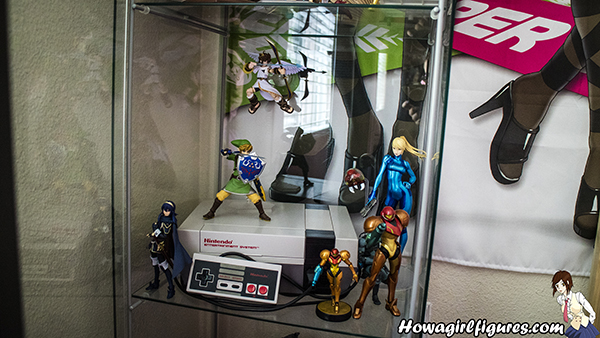 Here is his video game theme!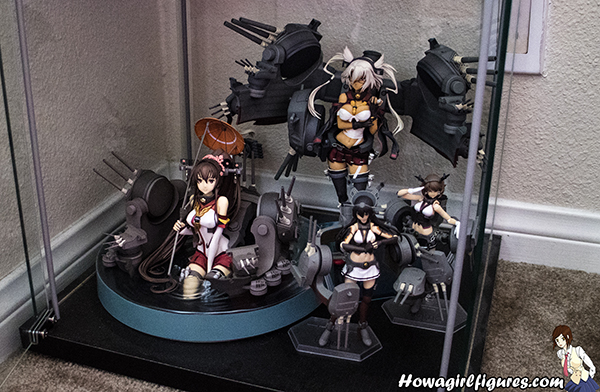 A Kancolle shelf!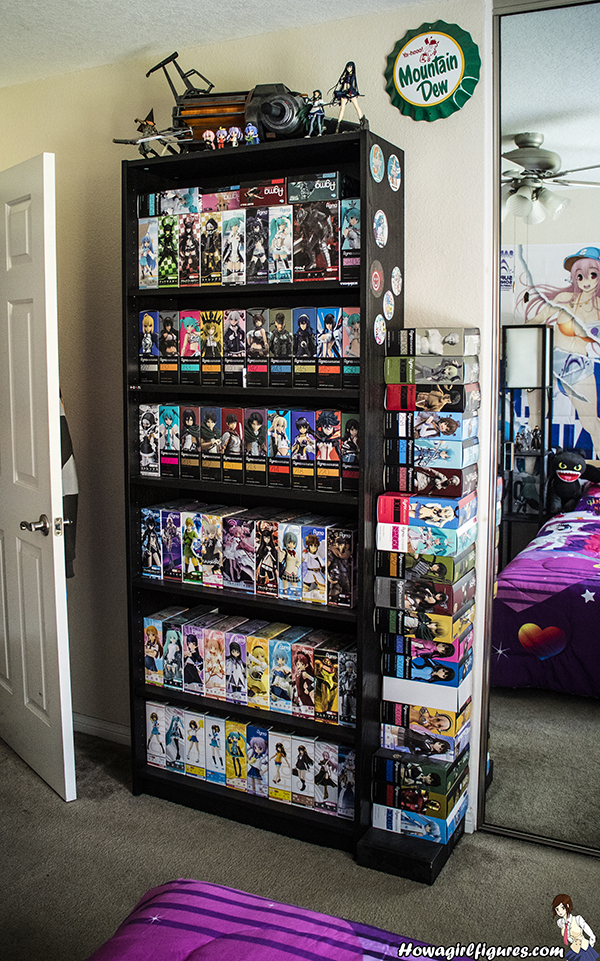 One thing to know about Nic is that he is by far, the best figma poser ever. I have never seen someone take to figma s well as him. He loves figma and has a large figma collection. Since he doesn't have a lot of room to display them all he keeps some in their boxes and rotates the figma he has on display very often.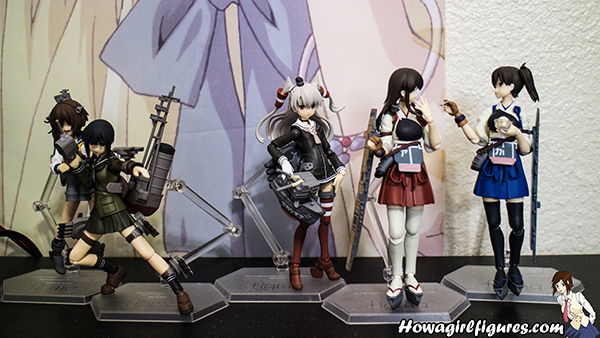 More Kancolle figma on his desk!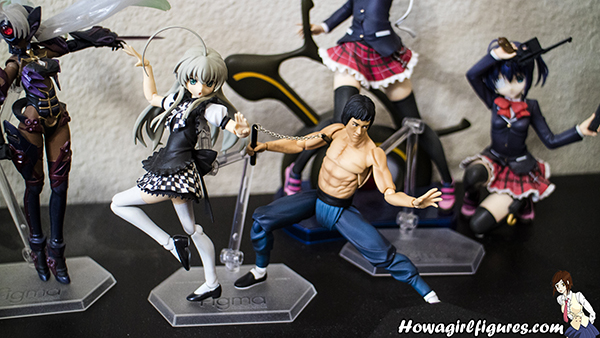 Bruce Lee and Nyaruko figma!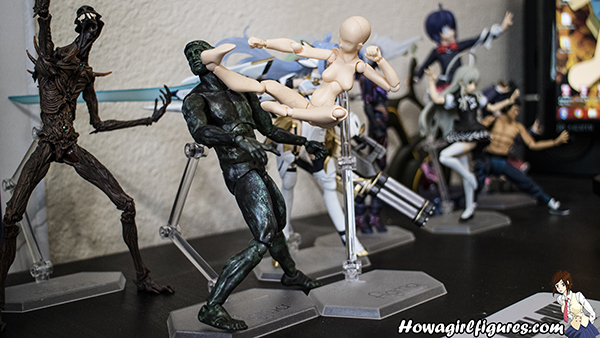 He's great at action shots too!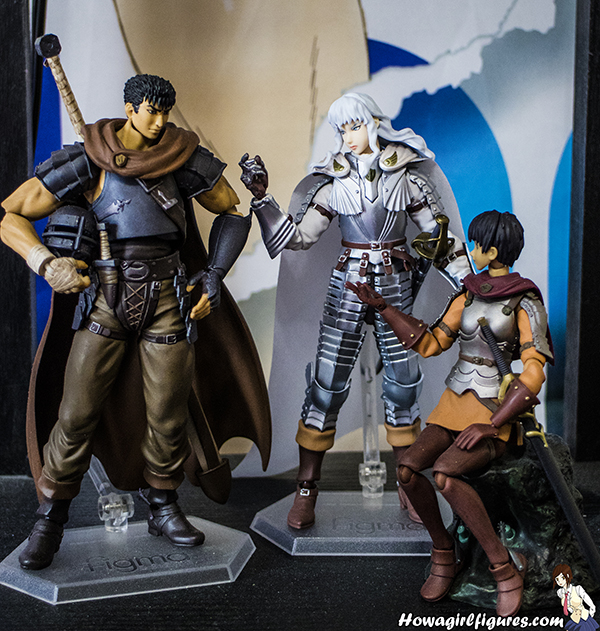 He's also one of the biggest Berserk fans I know.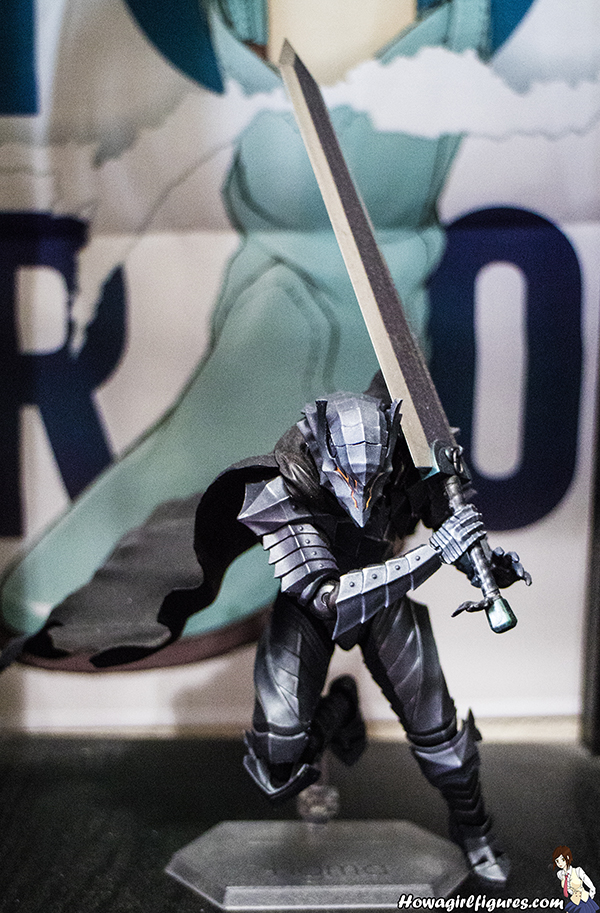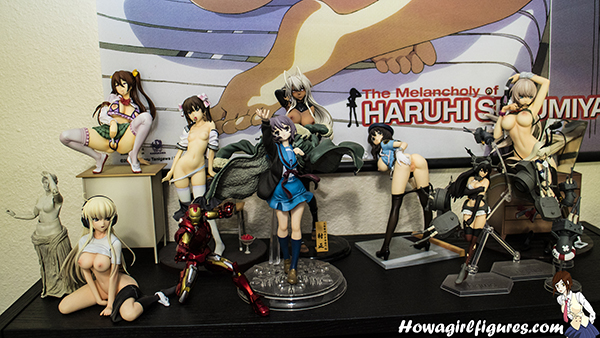 He's got some Native babes too!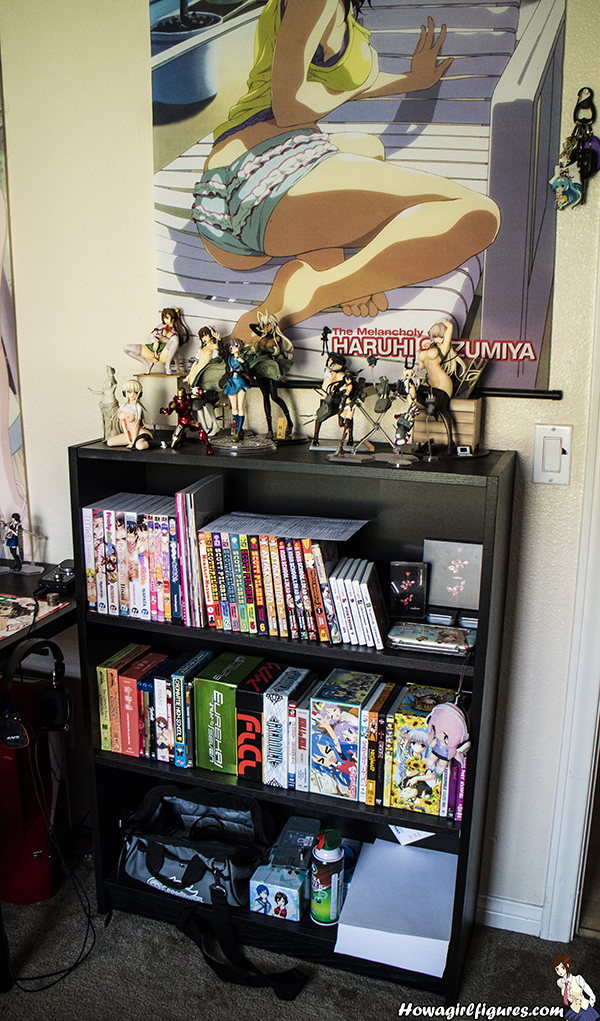 Our entire home is all anime, it's a wonderful feeling to know that the people around me are accepting and love the same things I do. I've built up an amazing support system and I'm glad to have an amazing boyfriend and a great roommate. I hope you liked the tour of our place.
But I want to leave you with some words of advice. Please don't look at my home with jealousy or envy. Instead realize that this is the combined collection of 3 people who have been collecting anime merchandise for 10+ years. It's taken us a long time to get to this point in our lives and none of this was overnight. Tay and I work within the Industry, (I work for Good Smile Company, Taylor works for Fakku) so we also have a great appreciation for everything in our life. I also want to say that never let anyone judge you for your collection, whether it's anime, movies, trains, cars, shoes, makeup, guns or anything that makes you happy. Just remember that Quality > Quantity and to NEVER EVER EVER go into debt over your fandom!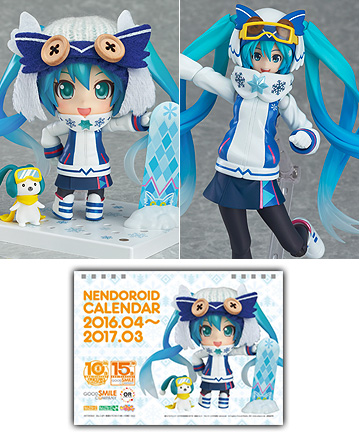 P.S. we're doing a cool giveaway on my work twitter to win some Nendoroid and figma of the new Snow Miku! Please check it out and enter to win! whl4u.jp/en/campaign